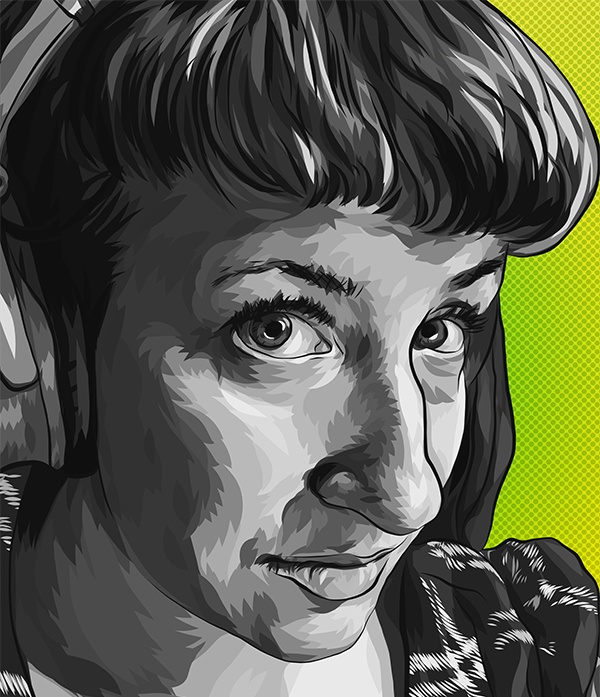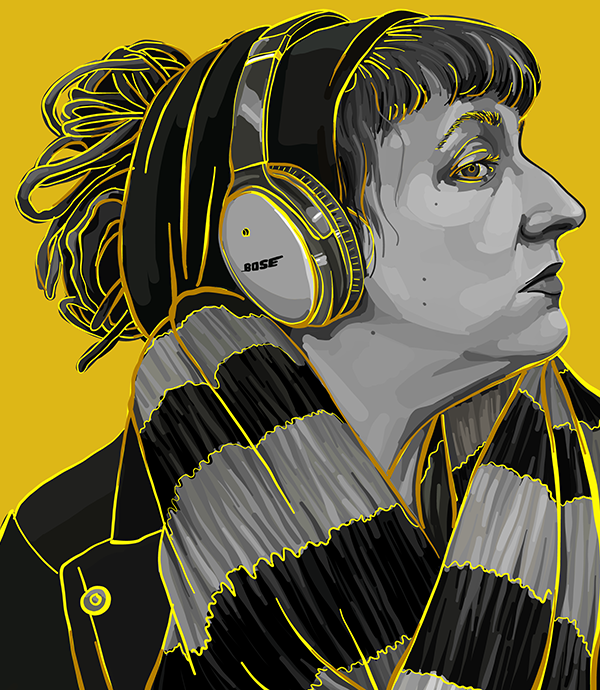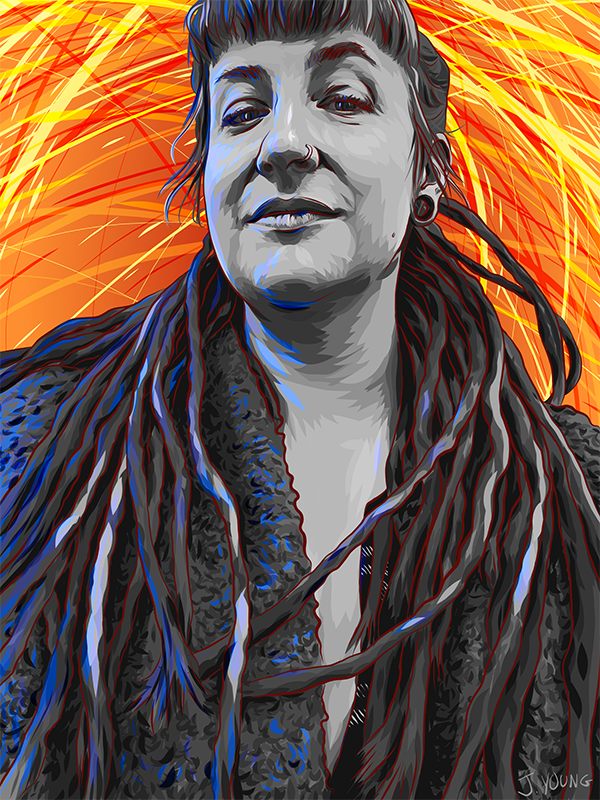 My process is pretty straightforward. I meet people, maybe take a photo if they have somewhere else to be, and I draw what I see. I do most of my work using a combination of Adobe Draw on my iPad and Adobe Illustrator on my Macbook Pro. No filters, no live-tracing or live-painting,
just marks on a surface
, and from time to time I hit "undo."
I love drawing with vectors because they're flexible. My shapes are infinitely scalable and editable, and I can reorganize the layer order in a document quickly and easily. Drawing with vectors is almost like making a paper collage, but without needing to use glue because I'm working in a room with no wind. Paradise.
As far as subject-matter, I'm pretty stuck on people – faces in particular. I'm faceblind, and I only learned that I had it as an adult. When I learned this it felt like discovering that everyone around me had X-Men powers. I started looking at people extra hard to try to see what the rest of the world else sees, and all of that looking turned into doodling. After long enough doodling became drawing. Then drawing became a growing body of work.
So yeah, I draw stuff. There really isn't much to it beyond looking, reacting, and making my hand agree with my eyes. Also, hitting "save" once in a while as needed.
Push Yourself 
- Feature article about the 100 Vector Portraits project, Adobe Create Magazine, 2017
Vector Portraits (solo show) - Grubbs Gallery, Easthampton MA, 2018

Faculty Exhibition - Currier Center Gallery, Putney School, Putney VT, 2017

Cambridge Open Studios - Google, Cambridge MA, 2017

Faculty Exhibition - Currier Center Gallery, Putney School, Putney VT, 2016

Faculty Exhibition - Currier Center Gallery, Putney School, Putney VT, 2015

Group Show - Transportation Building Gallery, Boston MA, 2015
Faculty Exhibition - Currier Center Gallery, Putney School, Putney VT, 2014

Faculty Exhibition - Currier Center Gallery, Putney School, Putney VT, 2013

Faculty Exhibition - Currier Center Gallery, Putney School, Putney VT, 2012

Craftershock - Worcester Roller Derby, Worcester MA, 2012

CPSD Faculty Exhibition - Cambridge Multicultural Art Center, Cambridge MA, 2011

Uproar on the Lakeshore - UIC Pavillion, Chicago IL, 2010

Derby in the Burbs - Westchester County Center, White Plains NY, 2010

MSAE Thesis Show - Arnheim Gallery, Massachusetts College of Art and Design, 2010

Score! - South Shore Arts Center, juried art show, 2010

Red - Cambridge Art Association, juried by Carl Belz, Director Emeritus, Rose Art Museum, Brandeis University, 2009

Family - Arlington Town Hall Gallery, 2009

Fall Salon Show - Cambridge Art Association, 2008

Arlington-My Take - Gibbs Gallery, Arlington Center For the Arts, curated by Lorraine Sullivan, 2008

Member's Prize Show - Kathryn Schultz Gallery, Cambridge Art Association, juried by Howard Yezerski, 2007

Cool - Kathryn Schultz Gallery, Cambridge Art Association, Juror- Sara Miller, curator, the Gund Collection, 2007

Blue - University Place Gallery, Cambridge Art Association, Boston MA, 2006

Fall Salon Show - Kathryn Schultz Gallery, Cambridge Art Association, 2006

Art From Within – Cambridge Teachers of Art - Cambridge Multicultural Arts Center, 2006

September Exhibition - Projekt 30, online exhibition, 2006

SIGGRAPH, Guerilla Gallery, Boston MA, 2006

Simple Gifts - Kathryn Schultz Gallery, Cambridge Art Association, 2006

Members' Prize Show - Kathryn Schultz Gallery, Cambridge Art Association, Photographer of the Year Award, 2005

Fall Salon Show - Kathryn Schultz Gallery, Cambridge Art Association, 2005

New Members Show - Kathryn Schultz Gallery, Cambridge Art Association, 2005

The Triptych Project - Julie Shaw Lutts Studio 412, Boston, 2005

Stories Out of School 3 - Gibbs Gallery, Arlington Center For the Arts, 2005

Open Photo & Sculpture - Kathryn Schultz Gallery, Cambridge Art Association, 2005

Solo Show - Manray Gallery, Cambridge Mass, 2001

Stories Out of School 2 - Gibbs Gallery, Arlington Center For the Arts. 2000